Kyneton Courthouse plans revealed as works begin
Designs for safety upgrades at the Kyneton courthouse have been unveiled by the Attorney-General Martin Pakula.  
The 160-year-old bluestone Kyneton courthouse will receive a $1.2 million safety upgrade as part of the $6.22 million Priority Asset Upgrades program funded in the 2016-17 State Budget.
"The safety of judiciary, staff and court users is of the utmost importance. I am pleased that the plans have been unveiled and that work will now commence to improve the safety of the courthouse. In finalising the plans, an important consideration was respecting the building's heritage while delivering necessary internal improvements to meet the needs of the court. The upgrade includes the addition of safer waiting areas and visual barriers for people impacted by family violence, as well as greater disability access and space for support services," Brian Stevenson, CSV Chief Operating Officer.
The internal reconfiguration will include a revamped public entry with disability access, and a foyer with separate waiting spaces and interview rooms, new registry counter and improved public amenities.
The design also incorporates a secure connection between the police station and the courthouse to ensure the safer movement of people in custody.
"Site preparation works are already underway and the court has closed, with matters being heard at the Castlemaine Magistrates' Court. We are working toward a completion date sometime in mid-2018," said Mr Stevenson.
When the court is reopened, new Court Security Officers, equipped with hand-held metal detectors, will be present on sitting days to undertake entry screening, and to provide a roving security presence.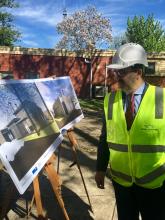 Kyneton Court closes for upgrade works
The Kyneton Magistrates' Court ceased operation on 13 October to enable work to start on a $1.2 million program of upgrades.
Primary court listings and registry services will be delivered at Castlemaine Magistrates' Court until Kyneton reopens in late 2018.
The upgrades are designed to improve safety for court users, especially those impacted by family violence. Improvements include creating separate waiting areas for family violence victims, additional interview rooms and updated public amenities to create a safer and less intimidating court experience.
The redevelopment of the courthouse includes an extension and major internal reconfiguration while retaining the original 160-year-old bluestone structure.
The upgrades will deliver the following improvements for court users:
separate waiting spaces and a new secure registry area and counter to ensure safety 

a new public waiting area 

provision of interview rooms, including one with direct access from the waiting area to better enable the delivery of services and support for court users 

a visual separation barrier in the courtroom 

a secure fence and direct access to the courtroom for people in custody to enable safer movement 

upgrades to the public entrance to enhance accessibility.
The Registrar at Castlemaine can be contacted on 5472 1081. 
Last updated on 04 Dec 2018
Last updated on 04 Dec 2018